Exhibitor Kit
Click Here for the exhibitor Kit - PLEASE READ!!!
Click Here for the GEMS order form
Click Here for the Freeman Electrical Order Form
Click Here for the City of San Antonio Fire Permit application
Click Here for the Food and beverage sampling application
* If you are interested in sampling food or beverage at our show please contact Dana Gutierrez at 512- 813-5339 | DanaG@mpeshows.com
HAVE YOU SET UP YOUR EXHIBITOR LISTING?
Click HERE for instructions to submit your online Exhibitor Listing, highlighting your company's presence in the show for our attendees both before and after the show.
Move In Hours

Tuesday February 25th 8:00AM - 6:00PM
Wednesday February 26th 8:00AM - 7:00PM
Thursday February 27th 8:00AM - 7:00PM
(HAND CARRY ONLY after 2:00PM)
Click Here for the Spring 2020 move in map.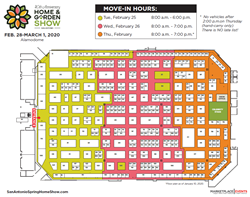 Move Out Hours
Sunday March 1st 6:00PM - 9:00PM
Monday March 2nd 8:00AM - 1:00PM
Exhibitor Badges
Exhibitor badges are required to identify yourself as an authorized exhibitor. Exhibitors will not be allowed access during show days without a badge. Badges are not required during move-in and may be picked up at the show office during operating hours.
EXHIBITOR BADGES MAY NOT BE USED AS ADMISSION TICKETS.
Questions?
Click Here for our teams contact information!